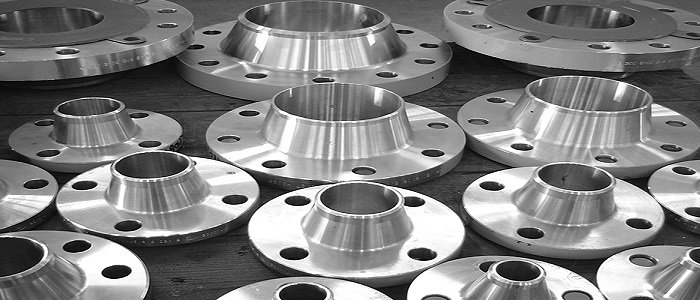 Stainless Steel Flanges
Stainless Steel Flanges is one of the most versatile and widely used stainless steel in the application-industries due to its physical characteristics, such as its endurance and strong corrosion resistance, this metal outperforms several other metals. This metal makes a wide range of industrial, commercial, and home objects. The most often used item made from this metal is stainless steel pipe. Some attachments, which are also stainless steel, support these pipes. Due to characteristics like superior corrosion resistance, durability, etc., stainless steel flanges set themselves apart from many other metals. These stainless steel flanges are used in various industrial, commercial, and domestic appliances.
The required amount of strength at the flanged junction is the primary factor that should be considered when selecting the kind of flange to use for a pipe installation. Flanges are used as a replacement for connections that are welded in order to facilitate maintenance operations and make them simpler.
Weld Neck Flange
It is possible to weld a pipe to a welding neck flange if the hub of the flange is long and tapered. Flanges of this kind are often put to use in high-pressure and high-low temperature applications that need an unrestricted flow of the fluid that is being carried by the piping system. These kinds of applications may be either stationary or mobile (the bore of the flange matches with the bore of the pipe). When there are no pressure dips, undesirable consequences like as dispersion and the erosion or corrosion of the metals near the flanged joints are prevented. The weld neck flange and the pipe are mechanically strained in a homogeneous way owing to the tapered hub. This also makes it simpler to perform radiological inspections in order to search for any leaks and welding faults that may have occurred. The dimension of the connecting pipe has to be the same as the diameter of the flange (NPS and pipe schedule). A single butt weld in the form of a completely penetrated V is used to link a welding neck flange to a pipe. Weld neck flanges made of stainless steel have their weights and dimensions shown on this page.
Long Weld Neck Flange
The only difference between conventional welding neck flanges and long welding neck flanges, commonly known as LWN flanges, is that the latter have a somewhat longer neck. The nozzle on a column or barrel of this sort is often made out of a component of this kind. There is also something known as an Equal LWN Barrel (E), as well as a Type LWN Heavy Barrel, both of which have their own unique shape and a wall thickness that is much greater. Long weld neck flanges are used on vessels of many types, including barrels, columns, and vessels in general. In addition to these standard flange types, equal barrel (E) and heavy barrel variants are also available.
Slip on Flange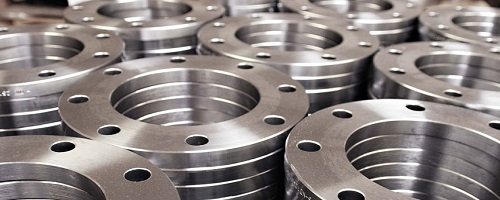 When attaching a slip-on flange to a pipe or fitting, it is necessary to employ two fillet welds, one on the inside of the flange cavity and one on the outside. The bore size of the slip-on flange is larger than the outside diameter of the connecting pipe. This is necessary so that the connecting pipe may be joined by a fillet weld, which requires the connecting pipe to move inside the slip-on flange. Slip-on flanges are sometimes referred to as "Hubbed Flanges" due to the fact that their design has a small and compact profile, which makes them easy to identify.
Threaded Flanges
Pipes may be attached to Threaded flanges without the need of seam welds by screwing the pipe, which has a male thread (usually NPT per ASME B1.20.1), onto the flange. Threaded flanges are a kind of pipe fitting (in certain cases, though, small welds are applied to increase the strength of the connection). Threaded flanges are available in diameters up to 4 inches and numerous pressure ratings. Despite this, they are most often used for small size pipes in applications that involve low pressure and low temperature, such as water and air utility services. Because it would be risky to attempt to weld connections in locations with a high potential for explosions, threaded flanges are required everywhere there is a possibility of an explosive atmosphere. This includes gas stations and factories.
Socket Weld Flanges
Pipes are joined to flanges secured with a socket weld by using a single fillet weld that is performed on the face of the flange that faces the pipe (different from the slip-on flange type that requires two welds). ASME B31.1 specifies that in order to successfully complete a flanged connection using a socket weld flange, the pipe must first be placed into the socket of the flange until it reaches the bottom of the flange. Next, the pipe must be elevated by 1.6 mm before it can be welded. After the weld has cooled and solidified, this space has to be left open in order to facilitate the correct alignment of the pipe inside the flange socket. Socket Weld In pipe systems that do not transmit fluids that are very corrosive and are of a small size, flanges are often used. This is because the gap region between the end of the pipe and the shoulder of the socket in some kinds of flanges is susceptible to corrosion. The reason for this is due to the fact that certain types of flanges.